Pewter is a metal alloy that has been in use for centuries. It has properties that make it great for crafting various objects ranging from common household items to intricately detailed ornaments. But what is pewter made of exactly?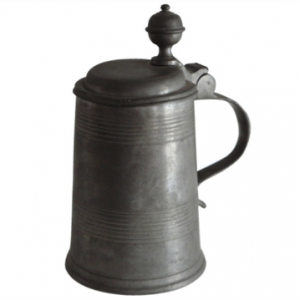 Components of Pewter
Pewter is a metal alloy, which means it's a mixture of more than one kind of metal. In the case of pewter, it is mainly composed of around 90% tin. The other percent is made up of another type of metal such as lead, antimony or copper. Tin has the advantage of being very malleable, but has an extremely low melting point. By mixing it with another metal that melts at a higher temperature, you can increase its melting point. The result is pewter, a metal alloy that has all the strengths of its two separate components.
Uses of Pewter
Because its main component is tin, it's easy to assume that pewter is cheap. You might associate it with inexpensive and mundane things like tin cans and tin foil. But pewter is actually a useful metal alloy that has been used in various ways throughout history. Going as far back as the Bronze Age, pewter has been used to craft useful objects. And even today, it can be found in all kinds of items. Here are some examples of pewter's uses.
For religious purposes – In the 11th century in Europe, pewter was very expensive. The only ones who could afford it were a handful of wealthy people and priests. It was used for making church vessels like chalice cups, candlesticks and paten – a saucer for holding the host bread. Because of its high cost and use in special ceremonies, pewter items were considered status symbols.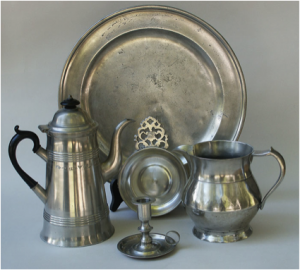 For tableware and drink ware – By the 18th century, the price of this metal alloy fell and it was widely used by normal middle class folk as well. Pewter was used to make eating and drinking utensils like spoons, forks, plates, cups and cutlery. It was used to make liquid containers such as mugs, teapots, saucepans and bowls. Pewter was a popular choice for making tankards and was a common sight in taverns. The wealthy and the masses alike enjoyed their meals with pewter tableware. Mass production through the industrial revolution helped in making it more accessible to commoners.
For decorations – Because pewter contained poisonous lead and was replaced by other alternatives like porcelain, its use at the dinner table declined by the end of the 18th century. However, pewter still has use in non-dinnerware objects like vases, buttons and inkwells. It can be used for crafting beautiful decorations and ornaments. To this day, it's one of the main components for crafting statuettes and figurines. The malleability of pewter lends itself well to the shaping of elaborate designs.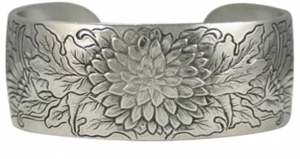 For jewellery – Pewter isn't just used to adorn rooms. It can be also be used to dress yourself up in stylish accessories. Today, it's used for making jewellery and trinkets. Gorgeous baubles like pendants, charm bracelets and earrings can be crafted from pewter. Jewellery made from this alloy has an elegant sheen that is timelessly fashionable, making it an affordable alternative to more expensive metal accessories. Pewter can also be used for novelty items like replica coins and badges.
Although the use of pewter isn't as widespread as it used to be, it still has its place in modern times. The way it's being used today has changed. But it's a welcome change that introduces new and unique ways of creating. Indeed, this metal alloy has proved itself to be both useful and versatile.
With new ways and ingredients to make pewter, having decorations and utensils made from this alloy isn't so far-fetched anymore. You might even have pewter items of your own. What other kind of objects do you think can be made with this metal?