Whether you're a collector or a user, care for your silver flatware is essential. No matter how beautiful they were when they started out, time will come when your precious silvers will dull and tarnish. This will especially be a problem if you don't give them proper care or if you don't use them as much as you should. Yes, you read that right. The more you use your silverware, the easier they will be to maintain, and the less often you will need to polish them. I sense a lot of perplexed faces on the other end of the screen but fret not, my darlings. There is no rocket science to taking care of your silverware, and, contrary to popular belief, it doesn't take that much time either.
1. After each use, wash your silverware separate from cutlery and serving ware.
Use warm water and mild detergent or dish soap, to remove residues. The acids from food leftover on your flatware can corrode and tarnish them. Your safest bet will be hand washing but if you must use the dishwasher, place them at the top rack, and set it to the gentlest cycle like Crystal or China. This is to ensure that you don't scratch or damage your silverware.
2. As soon as you're done washing, dry them.
If there's anything you should remember in elementary science, it's that water corrodes anything and everything with enough time.
3. Polish your silverware.
As stated above, you don't have to do this as often if you frequently use your silverware. With regular use, you only need to polish them once every few years. But if you're an infrequent user, or collector, or are about to sell your silverware, here are a few tips on polishing them to brilliance and perfection:
After washing and drying, purchase quality silver polishing cream. Think gentle polishes from companies like Hagerty & Sons. Yes, it may be more expensive and may take more effort to rub the cream into the silver, but the constant rubbing for longer periods of time on silver actually brings out its brilliance.
There is a way to cut some time and effort from polishing your silver to perfection: Silver Cleaning Cloth. It's specifically made to make your life easier and, furthermore, the material and production is tailor-made for silver. This way, you know you won't damage your precious flatware.
No instant shines, please. Believe me when I say it's worth it in the long run. The instant polishing creams are high in octane, which do produce faster results with minimal effort, however are highly acidic and abrasive. This means that each time you polish with these products, you strip off metal which decreases the value of your flatware. Even worse, if you don't remove these instant shines properly, they leave unsightly translucent white film on your silver. Believe me, these are tough to remove.
4. Store your silverware in a dry place, away from the stove and fumes.
There are also tarnish preventive bags (should you choose to invest in them) which are advisable for those who live near the sea (as salt air has a corrosive effect on silver).
And that's all there is to it! Wash-Dry-Polish-Store.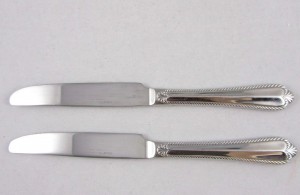 Check out The Escape Place's Set of 2 Hampton Renee Pattern Dinner Knives Stainless Steel Flatware
Check out The Escape Place's Hampton Renee Pattern Solid Serving Spoon Stainless Steel Flatware Collectibles
Do you know any flatware care tips that I missed in this article?
Visit
Let me know in the comments!