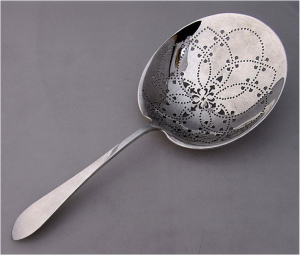 These days, fries, chips, and other delectable snacks are all eaten with the hands. However, did you know that these foods were actually served with fancy silverware in the old days? Yes, you read that right. Back in 1873, rich people from the Victorian era did not want their potato chips to be touched by human hands because they feared of their food being contaminated with germs.
So in order to serve potato chips, they used a piece of sterling silver flatware called the Saratoga Chip Server. Although this utensil is not commonly used in this modern time and age, it still holds a lot of value, especially among flatware collectors. Its well-made construction, complex design, and rich history make this chip server a must-have item in one's household.
Let's travel back in time and discover the rich history of Saratoga chip servers.
A Short History of the Potato Chip
In order to discover the origins of the Saratoga chip server, it is necessary to know the humble beginnings of the potato chip.
The very first potato chip recipe was created accidentally during the late 19th century. It happened inside a small restaurant called "Moon's Lake House" which was located in Saratoga Springs, New York. George Crum, one of the cooks in that joint was trying to appease a customer who was unhappy with his French fries.
The customer kept on sending his fried potatoes back to the kitchen because he thought they were too thick and soggy. Out of frustration, Crum sliced the potatoes into wafer-thin strips then fried them up to a crisp and sprinkled them with a lot of salt.
The result was an extremely crunchy dish that is impossible to eat. It was deemed impossible because back in the days, gentlemen and ladies from the upper class would never dare to pick their food up using their bare hands. Since the potato chip has a crisp and thin texture, it would instantly shatter when pierced with a fork.
But to Crum's and the restaurant owner's surprise, the customer loved the new dish. Since then, it has been part of the restaurant's menu. It was then known as "Saratoga Chips".
Creation of the Chip Server
As mentioned earlier, the upper class didn't want to touch their food with their own hands. So in order to serve them brittle Saratoga chips, companies like Tiffany, Gorham, Reed & Barton, and others developed a specific type of silverware called the Saratoga Chip Server.
Aside from keeping germs away from potato chips, this handy utensil was also used to drain excess oil from food using holes found on its surface.
Before, potato chips were considered as appetizers in fancy restaurants and not as snacks. That is why people prefer to serve them with this utensil.
Decline in Production
The Saratoga chip server was not the only specialty silverware that was invented during the Gilded Age. The lavish tables of the nouveau riche were filled with a variety of silverware such as fried chicken tongs, cucumber servers, sardine spades, berry spoons, and a whole lot more. There was such an excess in silverware production that in 1925, Secretary of Commerce Herbert Hoover created a decree which stated that an American Silver Service can only have up to 55 types of silver pieces.  Once the decree was enacted, most companies halted the production of different types of silverware, including the Saratoga chip server.
The Wrap Up
The Saratoga chip server may not be commonly used today, but it is still a great collectible piece. And if you don't want your homemade chips to be greasy, you can also buy this utensil to drain excess oil from your beloved snack. Do you have this classic piece of flatware at home? If so, feel free to visit the comments section and share your happy dining experiences when using the Saratoga Chips Server!
For more silverware or flatware, visit www.TheEscapePlace.com