Who is Betty Crocker?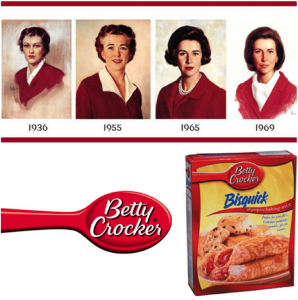 Most Americans today know her from the many cooking products they encounter in their kitchen at home. We know her as a  convenient box of easy-to-make cake mixes and canned frostings.  But before the Betty Crocker we know and love today, she was the homemaker's confidante in the kitchen.
When the Great Depression struck America, many families relocated to the big cities in search of work. As a result, far from home and their mothers, the women of families had no one to help them hone their skills in cooking or baking. They needed someone to turn to and confess their most frustrating kitchen troubles to.
In 1921, Washburn-Crosby Company (currently General Mills), launched an advertising campaign for Gold Medal Flour which lead to the start of Betty Corcker's career. When the company placed an ad in the Saturday Evening Post, participants were asked to complete a puzzle and send it in for a prize. The result turned out to be a tremendous surprise as approximately 30,000 finished puzzles were sent to the Washburn-Crosby offices, accompanied by letters expressing women's cooking and baking problems, asking for tips. This was when the company recognized the women's need for someone they can trust when it comes to providing answers to their cooking and baking problems.

As Betty Crocker gained popularity as a kitchen confidante for women, she went from writing letters to sharing baking secrets by radio. In 1924, Washburn-Crosby started airing a cooking show for Betty, entitled the Betty Crocker Cooking School of the Air. In 1951, Betty's voice began to have a face with her several TV appearances in the Burns and Allen Show and, later on, for her very own cooking show.
Introduced in the 1930s, Betty's first product was an all-purpose baking mix which was launched with her first Cook Book entitled 101 Delicious Bisquick Creations. Soon after, point values were printed on the boxes of cake mixes, which started the habit of collecting Betty Crocker points among household kitchens that even became a tradition for most families. The range of dining and kitchen items available for redemption wound up in a catalog, further amplifying anticipation among Betty's followers and devotees.
With Betty Crocker's Catalog Program, consumers' participation strengthened the brand among other household brands, establishing a strong support base during the program's 75 years of existence. In turn, poking into every housewife and every home's aspiration on availing discounts for kitchen merchandise, especially flatwares.
According to Renee Stark, Merchandise Manager of General Mills, "They would buy the products, they would clip the box tops, and they would send those in – plus cash – for savings on merchandise.
Moms would start collecting points and building a trove of treasures for her daughter who she sees marrying in the future. And when the wedding day comes, as gifts the family would give them additional place settings to start a new home together.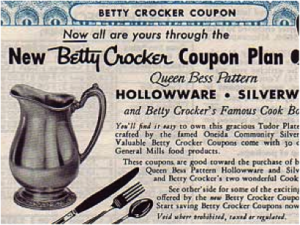 Through Betty Crocker's Catalog Program, flatware started to mean something more than just a set of utensils used for eating or serving food. It became sentimental, the kind of gift most people look forward to. It was treated as a precious treasure to be cherished for many years to come.
Betty Crocker's Catalog Program extended beyond being just another coupon redemption program and has become deeply rooted into the lives of families in America. Aside from the diffferent stages of excitement it provided among its devotees, it also allowed each household to grow their very own flatware collection, piece by piece. The depth of emotion it inspired and how long the program thrived proves to have strengthened American's love for flatwares as a whole.
In the 1940s, Betty Crocker was acknowledged as second to Eleanor Roosevelt in being the most recognizable female in America. She got the title that still rings true to this date, 'America's First Lady of Food'. According to Susan Marks, author of the book "Finding Betty Crocker: the Secret Life of America's First Lady of Food", Betty's persona was able to gain trust and compassion among Americans who desire to present their families with love and sweetness that can be expressed through baking or cooking, and this proves true especially among mothers.
Although compassion was not able to keep Betty Crocker's Catalog Program alive, with the changes in shopping patterns and the coming up of credit cards and online shopping, Betty has definitely touched American's lives, keeping their zest for flatware collection a meaningful one.