A monogram is a character that symbolizes someone or something. It's usually comprised of one to three letters. Once an object has been monogrammed, it is considered to be sealed. It signifies that the item is owned by someone.
According to Raquel Laneri's Is Monogramming Classy or Tacky? (Reference)Monograms have been around for a long time. In fact, the people from Ancient Greece used to inscribe the first few letters of their city's or ruler's name on the coins. "During the Middle Ages, merchants and artisans, as well as tradesman painters and publishers, used monograms –their own or their guild's–to sign or brand their work," the author wrote.
These monograms gained immense popularity during the Victorian era. Most of the bourgeoisie in this timeline liked to carve their initials on almost every type of item. This includes linens, shirts, lockets, and even carriages.
Continental and American
In the world of monogrammed flatware, there are two styles- the Continental and the American. With the Continental style, the symbol is placed at the back of the flatware's handle. With the American style, the character is placed on the front side, but if it obstructs the ornament pattern, it will be placed at the back.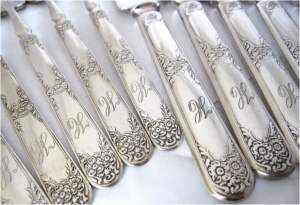 Some people love fancy monogrammed flatware but some simply don't. Why do you think so? Here are the banes and boons of monogramming:
Hands-up, yes!
There are people who would go hunting for monogrammed flatware and wouldn't mind staying up all night in the internet looking for utensils with their exact initials or for someone who would monogram their flatware with new ones. They simply love the personal touch monogramming brings to their ordinary silverware even if it cost much on the flipside. Most even buy sets. They are also used as wedding giveaways.
Even though the initials in the tableware are different from theirs, some choose to buy monogrammed flatware because they are antique and artistic. For them, it gives a classic look to their home or collection. Some people even frame them or put them on display. A post from Silver Magpies noted the fascinating quality of old monograms. "The actual workmanship on an old monogram truly is a work of art. Hand lettering is worthy of admiration.  "
Thumbs down, no!
Those aren't even my initials!
For others, monogrammed flatware is a no-no. They just use traditional and normal utensils instead of flatware owned by someone they do not know. An eBay guide  recommends "that (one) should not buy a starting collection with a monogram that is not the first initial of your last name, no matter how good a deal you think might be on offer, as one is unlikely to ever be satisfied with the collection."
Monogrammed may mean less value
Some cross-out tableware with inscriptions in their list because it lessens the value of silver. A guide on sterling silver says that monogramming will reduce the value of your sterling by 25-35%. Some people do not want their things to lessen in value that's why they keep their utensils and other items free from these inscriptions.
The explanations above are just few of the reasons why someone could want to seek or stay away from monograms.
How about you? What are your thoughts on the matter? Are monogrammed pieces cool or not? Join the discussion in the comments!