Do you want to add more flavor to your dishes? No problem since all you need is a citrus zester on hand. For those not familiar with the kitchen utensil, it's a small grate that's used in cooking to release small bursts of concentrated flavor from things like citrus rinds, nutmeg and cinnamon sticks. It's more slender than a rasp grater and has smaller holes, allowing it to make hundreds of fine cuts on whatever item you want to get a burst of flavor from. Used for added flavoring, freshly-grated lemon or orange zest can easily transform an ordinary recipe into a savory dish.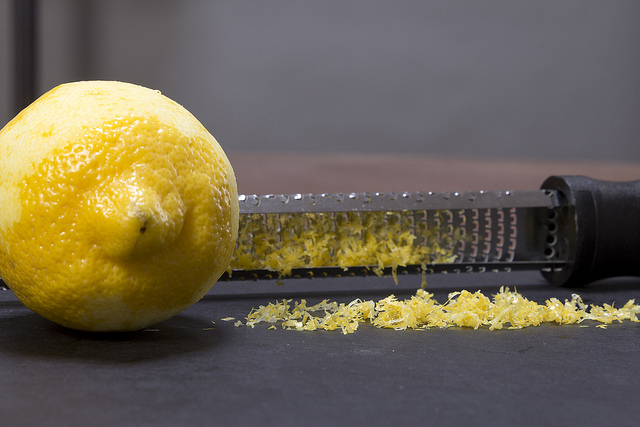 Many use them for lemons and limes, making them idea to get the flavor without adding the pith (the bitter white part of the skin of the lemon or lime). Citrus zesters feature five or six holes and are great for making lemons curls for things like espresso or even martinis. One medium-sized lemon is approximately one tablespoon of lemon zest, which is the same as two to three tablespoons of lemon juice. When using a lemon for both zest and juice, make sure that you grate the zest first before you squeeze out the juice.
Here's a fast and easy trick to make it easier to zest: cover the zest side of the grater with some plastic wrap and then grate the citrus (lemon, lime or orange) over the plastic wrap, without grating the bitter white pith. The zest will stay on the plastic wrap and won't stick in the holes of the zester. Then simply pull of the wrap and shake the zest into your recipe or a plate.
Here's a delicious recipe that requires some lemon zest!
Lemon Sugar Cookies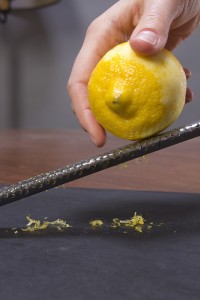 Ingredients:
4 Sticks Butter, Softened (or 2 Cups of Butter)
3 Cups Sugar
3 Large Eggs
2 Tsp Lemon Extract
Zest from 4 Large Lemons
Juice from 2 Large Lemons
4-1/2 Cups Flour
1 Tsp Baking Powder
1 Tsp Sea Salt
1 Cup Lemon Sugar (Mix 1 Cup of Sugar with Zest of 3 Lemons)
Directions
Preheat your oven to 350 degree and line cookie sheets with parchment paper.
Mix together butter and sugar until it's light and fluffy with a hand or stand mixer.
Add in the lemon extract, juice and zest from the lemons and eggs one at a time. Mix until it's smooth.
In a separate bowl, mix baking powder, sea salt and flour.
Combine all the wet ingredients to the dry and fold together. Mix until it's all combined.
Make balls of cooking dough using a 1 Tbs scoop. Roll the ball in the lemon sugar to coat and place on the cookie sheet about 2 inches apart. Press lightly on the cookies with the back of the spoon to smash down.
Bake for 12 minutes or until they start to get brown.
Allow to cool for about 3 minutes before moving to cooling rack.