If we're certain about something, it's that you will never see your spoons, forks, and knives as mere eating tools after reading this article. What made us say that? Well, read on!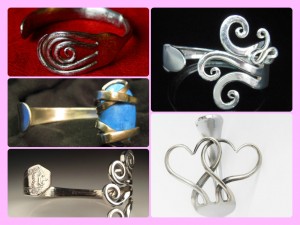 (images source: Etsy)
Would you believe that those beautifully and artistically crafted jewelry are made from forks? Yes, you read that right. Forks! As in the one you use every day for breakfast, lunch, dinner, and in between snacks. Amazing, right?
You might be one of those families who, for years, have accumulated a fair number of kitchenware, more specifically, eating utensils that have been clogging their kitchen drawers. They're still in good condition, with some even bearing family custom and history. You don't frequently use them, but you feel it's such a waste to throw them away. What you can do is… drum roll please – turn them into nifty pieces of silver jewelry!
Although this craftsmanship may be newly introduced to some, this trend has been going on for quite a while now. More and more artistic souls are jumping in on the bandwagon – creating their own or purchasing the most unique pieces now available from online shops.
Uniqueness is the name of the game. Whether you're creating them to sell or to wear, surely you'd want to come up with something uniquely yours that will separate you from the rest. Good news for you, all you have to do is to unleash your artistic side and try your hand on this one. First thing you must do before collecting the necessary tools is to check out these design inspirations to help you decide on what you want to do. Done? Let's begin then.
Pick Your Materials
In creating your very own silverware jewelry, the first thing you should have is the silverware you want to work on. You can use your old utensils, or if you want a more grand-looking jewelry, you might want to check out some silverplate flatware utensils for that.
Get the Right Tools
This project includes bending, twisting, and reshaping silverwares, so don't expect the task to be that easy. It requires skill, and a huge tank full of patience. The tools you will need are:
Vice – to help bend the material to your desired shape.
Pliers – for cutting.
Jewelry Pliers – for bending. Normal pliers will leave marks on your silverware.
Mallet – for flattening certain areas of the silverware.
Anvil – for use on really flat surface.
Drill – if the design you chose needs drilling.
Fine Sanding Disc – for polishing the edges.
Polishing Wheel – for that shiny finish.
Work It!
The next step is to cut, bend, twist, and reshape your silverware into your desired design. This is where you let your imagination and crafty fingers do the work and hopefully, create wonders for you.
Now that you have your material, the blueprint, and the tools to help you achieve your goal, the first thing you must do is start bending the silverware according to your design.
Some will choose to cut first but that would make your material smaller, therefore making it more difficult for you to hold it when bending. We advise you to bend then cut to make the process easier. But if you intend to drill holes on your silverware, better cut the piece first before bending. Drilling is easier on a flatter surface.
When cutting, make sure that you have the right length. You can use your own wrist to measure when you're planning to make a bracelet – this process goes the same with other jewelry.
Twist, turn, reshape, and flatten if needed, according to your desired design.
Use the sanding disc to polish the edges.
Use the polishing wheel for that unmistakable high class jewelry glimmer.
Wear the accessory and match it with your favorite dress.
Don't feel bad if your first project didn't quite turn out the way you imagined and intended it to be. Remember, this is just your first try. You're still learning. Don't beat yourself too much about it. Didn't they say that practice makes perfect? So practice! Surely, you have a dozen more extra utensils waiting for you to work your magic on. But if you got it the first try, just imagine what you can create next! Happy experimenting!
What's your favorite from all the designs you've seen so far? Have you tried creating your own piece? Hit that comments box below!