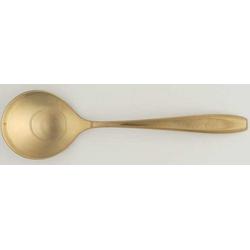 Gone were the days of the essentially proper table setting rules when it comes to eating at home with your loved ones. That's ancient history now in this age of fast-food, take-outs, and food trucks. Owning precious sets of tableware was the norm back then, especially for full-time moms. One name that was very big in decades past is Dirilyte – a manufacturer of golden-hued flatware (spoons, forks, knives) and hollowware (bowls, coffee and tea pots, pitchers). Although not plated and containing no trace of gold, these utensils are still sought after for the company's story and value until today.
Putting the Flash in Flashback
The company started out when Swedish metallurgist Carl Molin developed a solid-through bronze alloy in his homeland in 1914. He brought his creations to New York and was greatly received that he decided to produce more. 1919 saw the founding of Dirigold as a partnership between Molin and Oscar von Malmborg. Selling big time, several Swedish-Americans proposed its expansion in the US that led to its establishment in Indiana several years later.
1935 brought about the name change into Dirilyte for the purpose of not misleading the public into thinking there's really gold in it. Its popularity and production continued that the company started making them with the Bonded Protectant (BP) coating in 1961. This gives the utensils a distinct sparkle and eliminates the need for polishing. Public interest eventually waned and production finally ceased in 1986.
Dine Like a Boss
Dirilyte tableware was extremely expensive back in its heyday. A five-piece setting costs over $700. If you're into collecting vintage tableware, you're lucky now that it costs much less than that. A 90-piece service set was reportedly sold at $599. For authentication, pieces are marked with either the company's name and/or a cloverleaf logo commonly found under its handles.
Additionally, four standard patterns were made by the company: Empress, Florentina, Tuscany, and Regal.  The Empress and Florentina showed a more straight-edged handle while the Tuscany and Regal sported a more contoured one.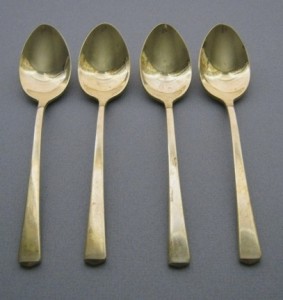 All that Glitters Is Gold
Care instructions for Dirilyte tableware with or without BP finish are almost the same. The only difference is that the pieces coated with BP do not require polishing, while those without coating need to be treated with the company's own heavy-duty polish that's still in production and available today. To ensure that your golden-hued utensils maintain its shimmery appearance and fine condition, follow these simple and easy steps:
Do not wash the pieces in a dishwasher. Instead, wash by hand immediately after use. Use warm water and mild detergent or soap.
Rinse well and dry thoroughly.
Apply Dirilyte polish for non-BP tableware only as soon as tarnishing appears.
Store only in untreated flannel wraps.
The Wrap-up
These days, fewer households are practicing the art of proper table setting. However, it doesn't mean that it is not fun to try it every once in a while. If you're looking for fancy pieces of tableware to add in your collection, then you should definitely grab a set from Dirylite.
For our tableware, spoons, forks collection: Check out www.theescapeplace.com
Especially our Oneida Collection.
Do you have any thoughts about this post? Come share them in the comments!